How and why I decided to buy the Yaesu FTDX101D
I first decided to purchase a SDR based transceiver, I have a few friends that have them.
So I ordered the Icom IC-7300 from GPS Central in Calgary AB.
Unfortunately the new transceiver had more than a few problem
(Note: it was just this particular radio)
I called
GPS Central
back and we decided to purchase the
Yaesu FTDX-101D
instead.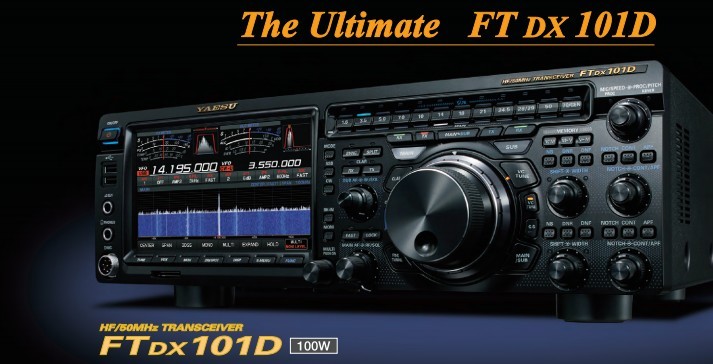 NOTE: This radio has a "built in soundcard" (via USB cable) and a SD Card slot to save you personal settings etc.)
The first thing I decided to do was create a spreadsheet of the 216 menus choices to keep track of the settings
like what I did for my FTDX3000
I have added more columns for the different operating modes like Voice/Data etc.
| | | | |
| --- | --- | --- | --- |
| MENU'S | FUNCTIONS | DEFAULT | FINAL SETTINGS |
| RADIO SETTING | | | |
| MODE SSB | AGC FAST DELAY | 300 | |
| | AGC MID DELAY | 1000 | |
| | AGC SLOW DELAY | 3000 | |
| | LCUT FREQ | 100 | |
| | LCUT SLOPE | 6dB/oct | |
| | HCUT FREQ | 3000 | |
| | HCUT SLOPE | 6dB/oct | |
| | SSB OUT SELECT | MAIN | |
| | SSB OUT LEVEL | 50 | |
| | TX BPF SEL | 300-2700 | |
| | SSB MOD SOURCE | MIC | |
| | REAR SELECT | DATA | |
| | RPORT GAIN | 50 | |
| | RPTT SELECT | DAKY | |
| MODE AM | AGC FAST DELAY | 1000 | |
| | AGC MID DELAY | 2000 | |
| | AGC SLOW DELAY | 4000 | |
| | LCUT FREQ | OFF | |
| | LCUT SLOPE | 6dB/oct | |
| | HCUT FREQ | OFF | |
| | HCUT SLOPE | 6dB/oct | |
| | AM OUT SELECT | MAIN | |
| | AM OUT LEVEL | 50 | |
| | TX BPF SEL | 50-3050 | |
| | AM MOD SOURCE | MIC | |
| | MIC GAIN | MCVR | |
| | REAR SELECT | DATA | |
| | RPORT GAIN | 50 | |
| | RPTT SELECT | DAKY | |
| MODE FM | AGC FAST DELAY | 160 | |
| | AGC MID DELAY | 500 | |
| | AGC SLOW DELAY | 1500 | |
| | LCUT FREQ | 300 | |
| | LCUT SLOPE | 18dB/oct | |
| | HCUT FREQ | 3000 | |
| | HCUT SLOPE | 18dB/oct | |
| | FM OUT SELECT | MAIN | |
| | FM OUT LEVEL | 50 | |
| | FM MOD SOURCE | MIC | |
| | MIC GAIN | MCVR | |
| | REAR SELECT | DATA | |
| | RPORT GAIN | 50 | |
| | RPTT SELECT | DAKY | |
| | RPT SHIFT(28MHz) | 100 | |
| | RPT SHIFT(50MHz) | 1000 | |
| MODE PSK/DATA | AGC FAST DELAY | 160 | |
| | AGC MID DELAY | 500 | |
| | AGC SLOW DELAY | 1500 | |
| | PSK TONE | 1000 | |
| | DATA SHIFT (SSB) | 1500 | |
| | LCUT FREQ | 300 | |
| | LCUT SLOPE | 18dB/oct | |
| | HCUT FREQ | 300 | |
| | HCUT SLOPE | 18dB/oct | |
| | DATA OUT SELECT | MAIN | |
| | DATA OUT LEVEL | 50 | |
| | TX BPF SEL | 300-2700 | |
| | DATA MOD SOURCE | REAR | |
| | REAR SELECT | DATA | |
| | RPORT GAIN | 50 | |
| | RPTT SELECT | DAKY | |
| MODE RTTY | AGC FAST DELAY | 160 | |
| | AGC MID DELAY | 500 | |
| | AGC SLOW DELAY | 1500 | |
| | POLARITY RX | NOR | |
| | POLARITY TX | NOR | |
| | LCUT FREQ | 300 | |
| | LCUT SLOPE | 18dB/oct | |
| | HCUT FREQ | 3000Hz | |
| | HCUT SLOPE | 18dB/oct | |
| | RTTY OUT SELECT | MAIN | |
| | RTTY OUT LEVEL | 50 | |
| | RPTT SELECT | DAKY | |
| | MARK FREQUENCY | 2125 (Hz) | |
| | SHIFT FREQUENCY | 170 (Hz) | |
| ENCDEC PSK | PSK MODE | BPSK | |
| | DECODE AFC RANGE | 15 (Hz) | |
| | QPSK POLARITY RX | NOR | |
| | QPSK POLARITY TX | NOR | |
| | PSK TX LEVEL | 70 | |
| ENCDEC RTTY | RX USOS | ON | |
| | TX USOS | ON | |
| | RX NEW LINE CODE | CR+LF | |
| | TX AUTO CR+LF | ON | |
| | TX DIDDLE | BLANK | |
| | BAUDOT CODE | US | |
| CW SETTING | | | |
| MODE CW | AGC FAST DELAY | 160 | |
| | AGC MID DELAY | 500 | |
| | AGC SLOW DELAY | 1500 | |
| | LCUT FREQ | 250Hz | |
| | LCUT SLOPE | 18dB/oct | |
| | HCUT FREQ | 1200Hz | |
| | HCUT SLOPE | 18dB/oct | |
| | CW OUT SELECT | MAIN | |
| | CW OUT LEVEL | 50 | |
| | CW AUTO MODE | OFF | |
| | CW BK-IN TYPE | SEMI | |
| | CW BK-IN DELAY | 200 | |
| | CW WAVE SHAPE | 4 | |
| | CW FREQ DISPLAY | PITCH OFFSET | |
| | PC KEYING | OFF | |
| | QSK DELAY TIME | 15 | |
| | CW INDICATOR | ON | |
| KEYER | F KEYER TYPE | ELEKEY-B | |
| | F KEYER DOT/DASH | NOR | |
| | R KEYER TYPE | ELEKEY-B | |
| | R KEYER DOT/DASH | NOR | |
| | CW WEIGHT | 3 | |
| | NUMBER STYLE | 1290 | |
| | CONTEST NUMBER | 1 | |
| | CW MEMORY 1 | TEXT | |
| | CW MEMORY 2 | TEXT | |
| | CW MEMORY 3 | TEXT | |
| | CW MEMORY 4 | TEXT | |
| | CW MEMORY 5 | TEXT | |
| | REPEAT INTERVAL | 5 | |
| DECODE CW | CW DECODE BW | 100 | |
| OPERATION SETTING | | | |
| GENERAL | DECODE RX SELECT | MAIN | |
| | HEADPHONE MIX | SEPARATE | |
| | ANT3 SELECT | TRX | |
| | NB WIDTH | 3 | |
| | NB REJECTION | 30 | |
| | BEEP LEVEL | 10 | |
| | RF/SQL VR | RF | |
| | TUNER SELECT | INT | |
| | 232C RATE | 4800 | |
| | 232C TIME OUT TIMER | 10 | |
| | CAT RATE | 4800 | |
| | CAT TIME OUT TIMER | 10 | |
| | CAT RTS | ON | |
| | QMB CH | 5ch | |
| | MEM GROUP | OFF | |
| | QUICK SPLIT INPUT | OFF | |
| | QUICK SPLIT FREQ | 5 | |
| | TX TIME OUT TIMER | OFF | |
| | MIC SCAN | ON | |
| | MIC SCAN RESUME | TIME | |
| | REF FREQ FINE ADJ | 0 | |
| | CS DIAL | MEM CH | |
| | KEYBOARD LANGUAGE | ENGLISH(US) | |
| RX DSP | APF WIDTH | MEDIUM | |
| | CONTOUR LEVEL | 15 | |
| | CONTOUR WIDTH | 10 | |
| | DNR LEVEL | 1 | |
| | IF NOTCH WIDTH | WIDE | |
| TX AUDIO | PROC LEVEL | AMC | |
| | AMC RELEASE TIME | MID | |
| | PRMTRC EQ1 FREQ | OFF | |
| | PRMTRC EQ1 LEVEL | 5 | |
| | PRMTRC EQ1 BWTH | 10 | |
| | PRMTRC EQ2 FREQ | OFF | |
| | PRMTRC EQ2 LEVEL | 5 | |
| | PRMTRC EQ2 BWTH | 10 | |
| | PRMTRC EQ3 FREQ | OFF | |
| | PRMTRC EQ3 LEVEL | 5 | |
| | PRMTRC EQ3 BWTH | 10 | |
| | P PRMTRC EQ1 FREQ | OFF | |
| | P PRMTRC EQ1 LEVEL | 0 | |
| | P PRMTRC EQ1 BWTH | 2 | |
| | P PRMTRC EQ2 FREQ | OFF | |
| | P PRMTRC EQ2 LEVEL | 0 | |
| | P PRMTRC EQ2 BWTH | 1 | |
| | P PRMTRC EQ3 FREQ | OFF | |
| | P PRMTRC EQ3 LEVEL | 0 | |
| | P PRMTRC EQ3 BWTH | 1 | |
| TX GENERAL | HF MAX POWER | 5 - 100W) | |
| | 50M MAX POWER | 5 - 100W) | |
| | 70M MAX POWER | 5 - 50 (W) | |
| | AM MAX POWER | 5 - 25W) | |
| | VOX SELECT | MIC | |
| | DATA VOX GAIN | 50 | |
| | EMERGENCY FREQ TX | OFF | |
| TUNING | SSB/CW DIAL STEP | 10 | |
| | RTTY/PSK DIAL STEP | 10 | |
| | CH STEP | 2.5 | |
| | AM CH STEP | 5 | |
| | FM CH STEP | 5 | |
| | MAIN STEPS PER REV. | 500 | |
| | MPVD STEPS PER REV. | 500 | |
| DISPLAY SETTING | | | |
| DISPLAY | MY CALL | FTDX101 | |
| | MY CALL TIME | 1 | |
| | SCREEN SAVER | 60 | |
| | TFT CONTRAST | 10 | |
| | TFT DIMMER | 15 | |
| | LED DIMMER | 10 | |
| | MOUSE POINTER SPEED | 10 | |
| | FREQ STYLE | BOLD | |
| SCOPE | RBW | HIGH | |
| | SCOPE CTR | CAR POINT | |
| | 2D DISP SENSITIVITY | HI | |
| | 3DSS DISP SENSITIVITY | HI | |
| EXT MONITOR | EXT DISPLAY | OFF | |
| | PIXEL | 800x480 | |
| EXTENSION SETTING | | | |
| DATE&TIME | DAY | | |
| | MONTH | | |
| | YEAR | | |
| | HOUR | | |
| | MINUTE | | |
| SD CARD | MEM LIST LOAD | | |
| | MEM LIST SAVE | | |
| | MENU LOAD | | |
| | MENU SAVE | | |
| | INFORMATIONS | | |
| | FIRMWARE UPDATE | | |
| | FORMAT | | |
| SOFT VERSION | MAIN | | |
| | DISPLAY | | |
| | MAIN DSP | | |
| | SUB DSP | | |
| | MAIN SDR | | |
| | SUB SDR | | |
| | AF SDSP | | |
| CALIBRATION | CALIBRATION | | |
| RESET | MEMORY CLEAR | | |
| | MENU CLEAR | | |
| | ALL RESET | | |