KSE4PCC1
KSE4PCC1 is Yaesu's CAT Commands software that can be used to test your CAT commands or use it for changing anything that can be controlled by CAT
Front Mic Jack to the rear USB Audio.
Manually from the front panel FTdx3000 is done by...
4. Press down arrow - 2 times
Or with the program running press the programmed F key to do all the above.
Check out Yaesu's, free CAT software below...
PCC-3000_v0202.zip this contains 2 software packages.
1. PCC-3000 Graphical radio control
2. KSE4PCC1 Cat Control programs
<---This is the one
KSE4PCC1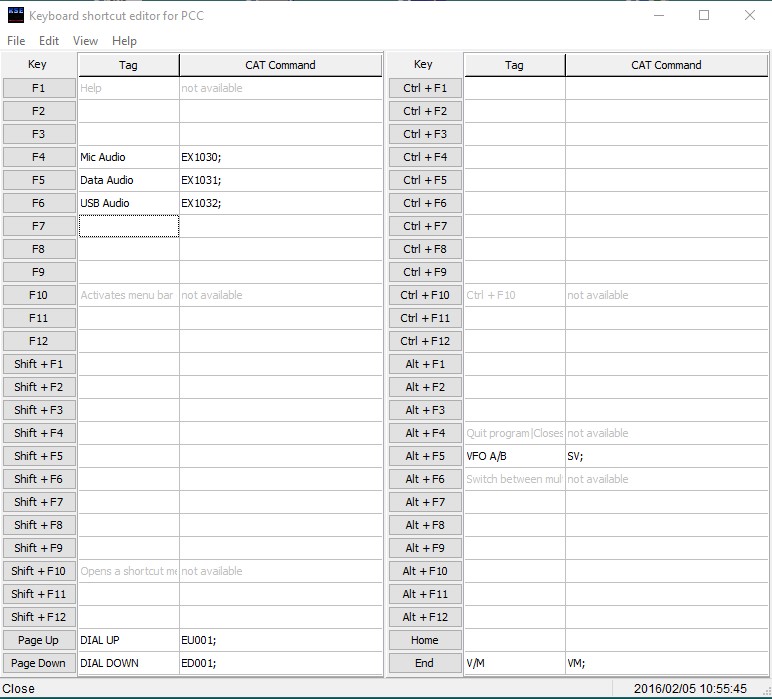 F4 = EX1030; this makes the Mic active on the front of the radio
F5 = EX1031; This makes the Data active on the rear of the radio
F6 = EX1032; This makes the USB active on the rear of the radio
Explanation: F6 - Usb Audio
(EX), (103), (2)
First 2 characters - CAT Command for Menu
Next numbers - CAT Command for Menu number
Last number - Cat Command for USB
If you wanted the Mic then the last number would be 0.
If you wanted the Data then the last number would be 1